Embedded finance development potential in Mexico
Introduction
Mexico became the first LatAm state to begin developing fintech-specific legislation. 2018 law defines which organizations are considered as fintech companies, regardless of the type of credit they lend — short or long-term. If a company uses digital platforms and e-walleting in their activities, it should comply with the fintech law. In case the firm does not use these methods and provides financial services the traditional way — e.g. via ATMs or offices — its activities are regulated by banking law.
A significant limitation, which is not a matter of finance or technology, is the problem of money laundering, which the government is now actively fighting. Projects related to innovations in identification technologies, blockchain and biometrics will grow in the near future due to high levels of distrust of online transactions and fear of fraud amongst Mexicans. A lot of fintech companies have already implemented new anti-fraud methods, such as a behavioral biometrics system, that recognizes users by their keyboard writing habits.
Primitive financial system and the lack of modern technologies in the payments industry of Mexico keep creating new obstacles for merchants. According to payment gateway provider Allpago, many basic functions such as reconciliation and chargeback notifications have not yet been fully developed. Not even all credit cards can process foreign currency. The Mexican government is constantly monitoring the payment system to detect money laundering schemes.
Specifics of regulatory policies
Mexico is one the most advanced countries in terms of promotion of financial technologies amid South and Central American countries. In 2018, the Mexican government passed a new law on regulation of institutions that use fintech. This document, which was named "the fintech-law," controls online-crowdfunding, activities of electronic payment operators, various aspects of digital asset circulation and introduces the "regulatory sandbox" for fintech companies.
The state took the British open banking law as a basis and obliged the banks to open their APIs. One of the basic concepts used by the above-mentioned law is an "institution using financial technologies." They are divided into two groups:
collective funding institutions
electronic payments institutions
In order to obtain institutional status, a legal entity or the founders of a newly created legal entity must receive a permit from the National Commission on Banks and Securities (CNBV). The Mexican government is hoping that the implementation of this law will greatly increase financial stability, reduce the amount of cash in circulation and attract more investments in the "white" economy by cutting the spread of corruption and money laundering.
Status quo
In payments up to $24 (500 pesos) 95% of Mexicans use cash as a means of payment.
More than 50% of Mexican people never made an online transaction in their life — although they widely use Facebook, YouTube and the free version of Spotify.
Installment payments by credit cards are very popular. A payment plan is preferred by 60% of cardholders over immediate discounts. Dealing with a local acquirer provides potential consumers of fintech products with the possibilities locals seek.
Social factors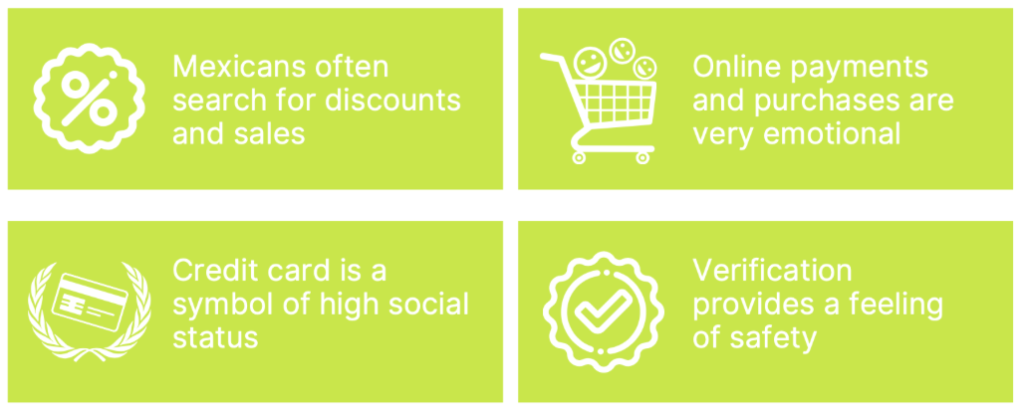 Drive factors
Unbanked — what can break the resistance?
The fastest and the most simple adoption of fintech is by the introduction and implementation of face recognition systems and digital document flow;
Curated and targeted user journey that adds value;
Client support service which is highly accessible and helpful;
Progressive urban youth.
Debit becoming an important part of the wallet
Online/international purchases starting to accept debit cards;
3DS 2.0 to maximize frictionless payments;
E-wallets and electronic cards are being implemented.
BaaS over true Open Banking
More FaaS enablers — more card network primary members;
More issuers to provide BIN sponsorship;
Enabling regulation and players in small markets;
Pioneers and startups to pave the way and form a market.
Mass digitalization of small-scale businesses
Spread of pay links practice;
Cheap and affordable plug-and-play solutions;
Refund services and account reconciliation;
Ecosystems to break the cash cycle.
Сonclusion
Perspectives of doing fintech business in Mexico is looking somewhat mixed. On one hand, the Mexican government strongly tends to obtain control over all financial transactions in the country in order to more efficiently combat crime, fraud and money laundering. Therefore, companies may have trouble entering the market due to the high amount of necessary licensing and documentation. Mexican law seriously differs from common American and European laws, so businesses need to consider legislation differences which may be an obstacle when entering the market.
On the other hand, the Mexican fintech market is almost entirely untapped and therefore possesses great potential — mobile internet coverage is only 71%; credit cards — only 12%. When entering the market companies should take into consideration high amounts of informal employment and cash-based character of the Mexican economy.